WP Zapier Integration
WP Zapier Integration allows you to easily sync your WordPress site with over 2000+ applications with services like Zapier, Integromate and even custom Webhooks. WP Zapier is the ultimate Zapier plugin for WordPress websites and online stores.
Features
Easy to setup.
Instant delivery.
Two way synchronization to Zapier (or alternative services) whenever a user registers, logins or updates their profile information within WordPress.
Integrate with popular WordPress plugins like: MailPoet, WooCommerce, Paid Memberships Pro, Easy Digital Downloads, Sensei LMS, Ultimate Member and more!
Works with custom fields. Send custom fields to Zapier and Receive custom fields for WordPress users.
Ability to send / receive custom data through to Zapier.
Uses webhooks to integrate with over 2000+ applications. View available Zapier applications.
Integration into the most popular CRM's such as SalesForce, AgileCRM, HubSpot and more!
Receive data from Zapier to: create, update or delete a user from your WordPress website.
Conditional logic for outbound events. Send data from your website only if certain conditions are met.
Documentation available.
Hooks for developers.
Premium support and automatic updates for 12 months.
Compatible with the latest version of WordPress.
Integrate with Thousands of Apps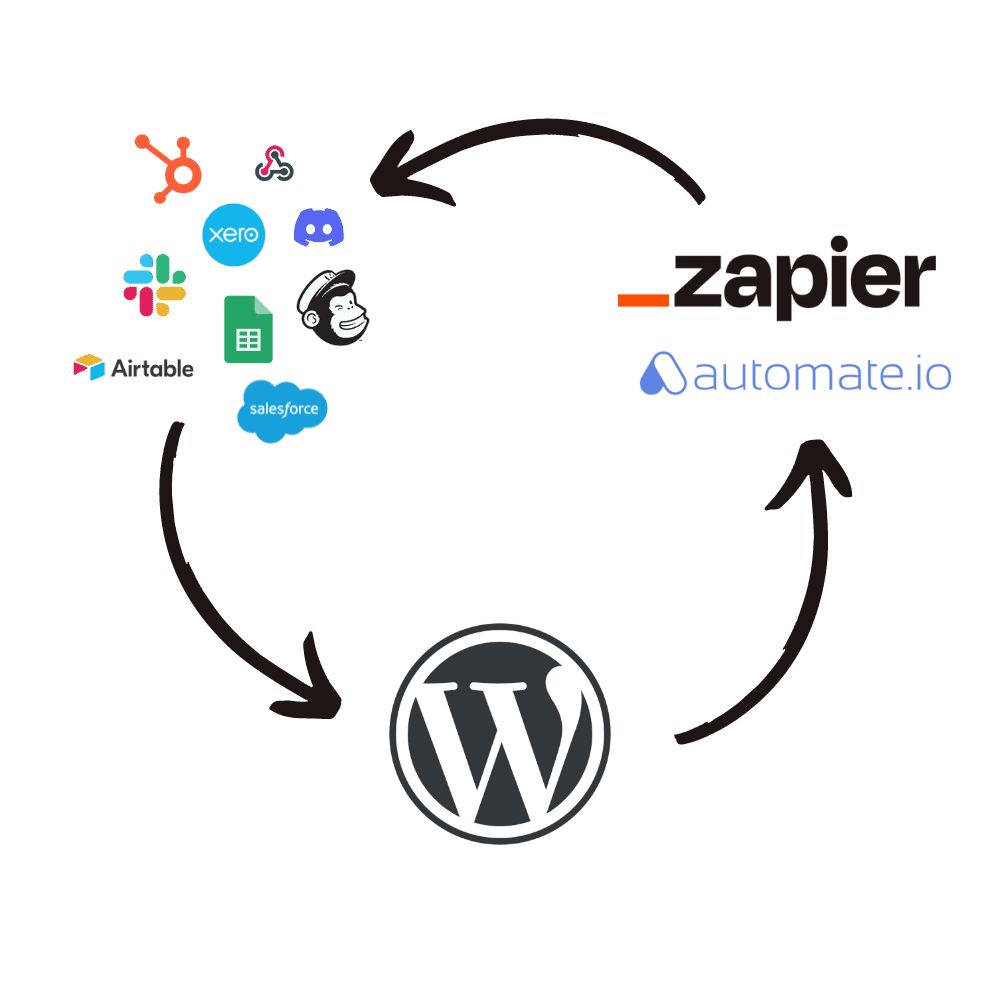 Connect your WordPress site to thousands of popular cloud applications automatically. Here are a couple of popular examples you may be able to use WP Zapier for:
Email: Gmail, Office365
Spread Sheets: Google Sheets, Microsoft Excel
Sales and CRM: Hubspot, Active Campaign, MailChimp, MailPoet
Accounting: Xero, Quickbooks, Freshbooks
Projects: Trello, Asana
Social Media: Facebook, Twitter, Instagram
Other: Slack, Help Scout, WordPress, Zendesk
WordPress Plugin Integrations and Outbound Events
Outbound events are powerful triggers that allow you to send data to Zapier (or Zapier alternative solutions) via webhooks to automate tasks from your WordPress site. Here are the current following plugins we integrate with.
Automate redundant tasks for your WordPress site in a matter of minutes, saving you time and money!
Outbound Events/Triggers
WordPress Core: save post, save page, user register, user login, user profile updated.
MailPoet: subscriber created, subscriber updated, subscriber deleted, form submission.
Contact Form 7: Before email is sent, after email is sent.
Gravity Forms: After form submission.
Ninja Forms: After form submission.
Events Manager: Event created/updated.
Easy Digital Downloads: Customer created, customer updated, download created, completed payment.
WooCommerce: New order, order status changed, save product.
Paid Memberships Pro: After change level, order added, order updated.
Ultimate Member: User registered, user deleted, user deactivated, user approved, user status changed, user email confirmed, user role updated, user role upgraded.
MemberPress: Member added, initial signup, subscription created, transaction completed.
LearnDash: Quiz completed, Topic completed, lesson completed, course completed, course access expired, user activity, marked as incomplete.
LifterLMS: User enrolled in a course, user removed from course, user added to membership level, user removed from membership level, user completed lesson.
SenseiLMS: User starts a course, user completed a course, user starts a lesson, user completed a lesson, user completed a quiz.
TutorLMS: After rating placed, after question added, after answer to question added, course completed, lesson completed, approved instructor, blocked instructor, user enrolled into course.
Works with Zapier Alternatives
WP Zapier is not only limited to Zapier but works with any service that supports collecting data from a webhook, even custom coded webhooks – some popular Zapier alternatives:
Screenshots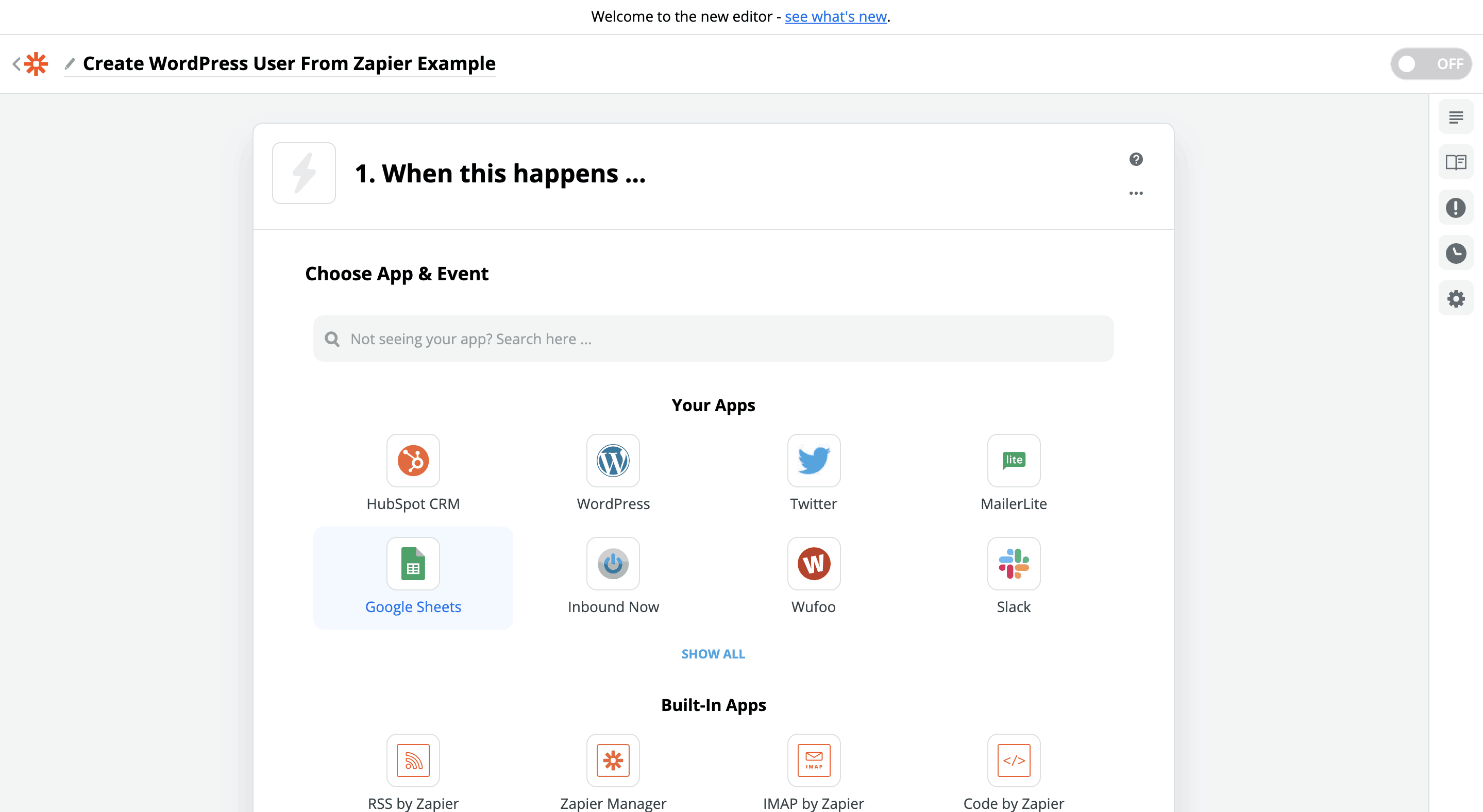 Reviews
The plugin worked perfectly and was really easy to use. When I had an issue not directly related to the plugin Yoohoo went above and beyond to help. I cannot recommend this developer or plugin enough.
This plugin makes a huge difference in how useful MailPoet is for me. I love MailPoet, but it's really lacking in integrations. Being able to use Zapier with MailPoet means I can build pretty much any integration I need, which is a total game changer!
I set up my Zap incorrectly at first, and Yoohoo was really responsive to my issue and kindly showed me how to get it working correctly. I can tell I'm in good hands!
Write a Review